Want to keep the kids happy and entertained all holiday season long? Let Alexa be your own personal holiday elf! All you have to do is ask.
We've rounded up a few awesome Christmas skills on Alexa to make your days and nights with the kids this season merry, bright—and hopefully out of your hair for a few minutes while "Santa" finishing wrapping all those gifts.
Photo: Courtesy of Amazon
Need some helping filling your playlist with Christmas songs? Using the iHeartRadio skill, iHeart Santa, kids can answer a series of questions posed by Santa to have a custom curated list of holiday songs created for them.
"Alexa, play Christmas music."
Nothing helps lift your spirits like some jolly Christmas tunes. Just say the word and Alexa will cue up your favorite songs of the season through Amazon Music. Even if you don't happen to be a Prime Member, you can just enable the Christmas Radio skill and ask Alexa to play it. Bonus tip: ask Alexa to sing you a Christmas carol and the kids will love the response.
"Alexa, ask Christmas Countdown how long until Santa comes."
If your excited tots wake up each morning in December wondering if Christmas has finally arrived, Alexa can help them keep track with the Christmas Countdown skill.
"Alexa, turn the Christmas tree lights on."
Whether you want to be able to turn your Christmas. lights on and off remotely or you're hoping to light your home up like you're in the Great Christmas Light Fight, Alexa can help. Plug any light strand into an Alexa-compatible smart outlet and you can control them using your voice. If you want to get a little fancier, you can upgrade to Alexa-compatible smart Christmas lights that can be programmed with specific effects.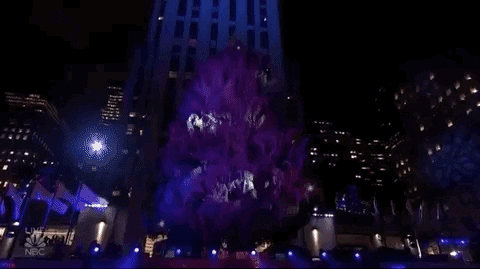 "Alexa, play Santa Claus."
Want a direct line to the big man? Alexa has the hook up. Kids can say "Alexa, ask Santa Claus if I'm naughty or nice" to find out which list they've made after being quizzed on a series of questions on their behavior.
"Alexa, start The Night Before Christmas."
Get the kids ready for bed and those sugar plum visions with the classic tale of how Santa and his reindeer arrive. Alexa also has some other holiday stories up her sleeve.
"Alexa, play Christmas sounds."
If you need a break from "Rudolph" and "Jingle Bells" but still want to fill your home with the sounds of the season, you can enable the Christmas sounds skill and Alexa will spread the holiday cheer with sounds like bells ringing and horse hooves clomping.
Speaking of Christmas Eve, if you want to get those kids off to bed so you can enjoy some quiet time and a glass of wine, convince them that Santa is on his way by enabling the NORAD Tracks Santa skill.
Don't worry, Alexa won't spoil all the Christmas magic. If anything, the home assistant has you covered by answering all those difficult questions you might not be ready to yet this year. Some of the other challenging Christmas questions Alexa can answer include "How old is Santa Claus?" and "What is the true meaning of Christmas?"
"Alexa, ask Christmas Kindness for an idea."
Want an easy way to help your kids understand the importance of giving and helping others? Alexa can help with the Christmas Kindness skill. When you enable the skill Alexa will prompt you with suggestions on random acts of kindness.
With so many ways to engage in holiday festivities with Alexa, this home assistant may as well be your very own "keep the kiddos busy" advent calendar for the whole month of December!
—Shahrzad Warkentin
RELATED STORIES: 
Alexa, Shhh! The Baby's Sleeping
Who Ya' Gonna Call? Santa Claus! Here's How!
Amazon Alexa Can Now *Literally* Make You Dinner
"Alexa, Get Me a Donut" & 7 More Foods You Can Order by Voice
6 Ways Your Little Elf Can Talk to Santa for Free This Christmas