Ah, it's that time of year again, when holiday movies roll out to movie theaters all over the country, with old and new soon-to-be faves and classics. Bad Moms Christmas is about to join the list of new classics—and it's coming back to theaters!
So right about now you're probably thinking, "Um wait. Didn't this movie already come out? Like a while ago?" And yes, yes it did. But that doesn't mean you have to wait until the kids finally go to sleep, pop open your laptop and watch the mommy movie locked in your kitchen's pantry. Nope.
Photo: Courtesy of STXFilms
We all totally enjoyed Kristen Bell, Mila Kunis and Kathryn Hahn going all out for the holidays in the totally hilarious (and pretty much relatable) flick. Well now Fathom Events is bringing the mama fave back to the big screen for one more feature showing. On. Dec. 6 you can enjoy a night out with the girls and a special showing of Bad Moms Christmas. Yay!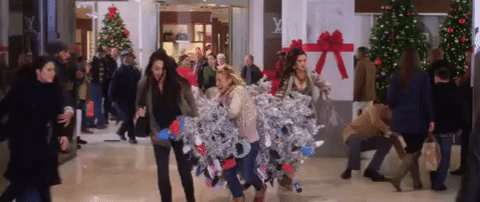 How can you get tickets to this one-night only event awesomeness? Visit the Fathom Events website and enter your city or zip code to find participating theaters near you. After finding a theater that's close to your home (or maybe you'd prefer the extra freedom time during a long drive with the girls), you can also buy tickets on the website.
—Erica Loop
Featured Photo: Kristen Bell via Instagram 
RELATED STORIES:
Get Ready for a Season of Love When RENT Comes to TV Next Year
7 Must-See Kids Movies Coming to Theaters This Holiday Season
Cirque du Soleil Is Coming to Your Movie Theater for One Magical Night Only