The Great Wolf Lodge has plenty to offer all ages and stages, from an epic water park to the MagiQuest adventures, story times and more. But if you're looking for one more reason why you have to visit this hotel-waterpark near you? This summer they're debuting the first-ever Summer Camp-In for adventures through Labor Day. Read on to find out what else is in store for your family this summer.
1. The Summer Camp-In
Lobby s'mores, anyone? Summer Camp-In, Great Wolf Lodge's summer themed decor and activities are brand new this year. Think summer-camp themed crafts like decorating pins and badges or making friendship bracelets, evening s'mores in the lobby, Bingo or trivia for families each night and super cute activities like the Rubber Ducky 500: Kids select and decorate a rubber ducky early in the day, register it in the water park and then watch to see which ducky wins the race down one of the water slides. (Plus, kiddos get to keep their ducky for a souvenir.) There are organized pool games and parties, and you can even get a summer-camp seasonal rooms. 
2. The Waterpark
Whether it's too hot or too cold, the Great Wolf Lodge's  indoor waterpark that is 84 degrees year round. Relax in Crooked Creek, a winding lazy river or let the tots splash around the multi-level Fort Mackenzie which recently got upgraded to included smaller-kiddo sized water slides and is surrounded by well-placed tables and lounge chairs for the parents. You can also test your balance on the Wolf Rider Wipeout and coax the whole family to take the River Canyon Run, a tube ride with an interactive Splash Cinema.
Plus, as of June 28, 2019 day passes are now on sale to visit the waterpark even if you aren't staying overnight!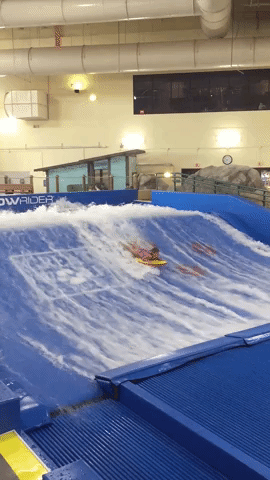 video: Amber Guetebier
Good to know: Safety is a priority, and there are plenty of Coast Guard certified water jackets on hand, including ones fit for toddlers. Some of the rides, like the Totem Towers and the Wolf Rider Wipeout have height requirements but do not fear: even your smallest kiddos will not feel left out.
Dial It In: Claim a lounger by Fort Mackenzie and order yourself up some fancy house drinks from the Watering Hole. You don't even need your wallet: just scan your wristband and the cocktails get charged right to your room.
3. The Rooms
Whether you've got a big clan or it's just you plus one, there are rooms for your family at the Great Wolf Lodge. Upgrade any room during the summer with the Summer Camp-In package. You'll get a pup-tent, decorations and even a campfire-shaped light. 
The most popular room is the Deluxe Bunk Bed Suite, which has built-in bunks and a queen bed, as well as a pull-out couch. The rooms are spacious enough to chill in after a busy day and all rooms at the Great Wolf Lodge include mini-fridges and microwaves. Other great options include rooms with multiple queen-sized beds, rooms with double bunks in a separate space (Queen Cabin Suite with themed KidCabin) and even big family suites like the Grizzly Family Suite which sleeps 12 and the Northwoods Suite which sleeps 12 and includes a fireplace.
Good to know: Unless you spring for a room with separate bunks (KidCabin) you and the family will all be in the same room. This isn't a bad thing, since this is a family vaycay, but if you're hoping for some downtime/privacy after the kids sack out and you've got light sleepers, you should upgrade.
4. The Great Wolf Adventure Park
If the Water Park is the crown jewel, we think the Adventure Park is the hidden gem. With plenty of different level arcade games, a climbing wall, a ropes course and a mining experience you'll find hours of fun right there. Plus, there's Ten-Paw Bowling (ten pin bowling! you never see these anymore!) that even the littles can master. Grab some pizza and salad at Hungry Like a Wolf on the second level and then hit the lanes.
5. MagiQuest
No visit to the Great Wolf Lodge is complete without an introduction to MagiQuest—the interactive game that is like a scavenger hunt meets video game. But don't be fooled—there's very little screen time and kids and their parents will get lots of exercise. Wander the lodge communing with Pixies and battling dragons. Start your Quest at the MagiQuest shop where you procure a wand and declare your Quest name. Throughout the second and first floors, you'll find the wands react with features, stations (called "portals") and more. Light up crystals, make paintings talk and more as you solve each level. And if you find yourself heading to a different Great Wolf Lodge location, bring your wand! It will work for the adventure at any location.
Bonus: See what your wand does to the bear in the lobby.
6. Build-a-Bear Onsite
For a souvenir worth snuggling, stop by the main gift shop's Build-a-Bear station where kiddos can build bears or a Great Wolf Lodge character (like a wolf) and then outfit them with Great Wolf Lodge-appropriate attire. character outfits. 
7. Food & Drink
There are seven different food and drink spots on site, including a Dunkin Donuts, Hungry Like a Wolf pizza place, Camp Fire which offers a breakfast buffet as well as lunch and dinner, Buckets Incredible Cravings (right inside the water park) and a Ben & Jerry's. 
Insider tip for coffee drinkers: There's no beloved Caribou on site so your main coffee house is Dunkin Donuts. You have been warned.
8. The Staff
Every time we've visited, we've noted the wonderful treatment toward guests by the staff. From the enthusiastic customer service at the MagiQuest Marketplace to the managers on site who can make the Northwoods Friend Adventure show appear "like magic" in spite of the schedule, every employee you and your kids interact with will make your family feel like they are honored guests. Knowing your kids are not going to be ignored or chastised goes a long way toward making any parent feel good about taking their family somewhere. Kudos to the staff at this Great Wolf Lodge location.
Special shoutout: On our most recent visit we witnessed a young employee (Sophie M.) take swift action when she found a child crying, separated from his family. She quickly consoled him while she called security to come and help locate his parents, and explained to the boy what was happening all along so he wasn't as scared.  As a parent, this is exactly what you would hope for if your kid encountered this situation. Kudos, Great Wolf Lodge!
Best Deal
Rooms start at as little as $99. The best bet for parents with busy kids is the to grab either a Pup Pass, a Paw Pass or an Adventure Park Pass. The most popular is the Paw Pass, which includes a MagiQuest wand, topper and game; one game (for one) at Ten Paw Alley, a pass on the ropes course, and two climbs on the climbing wall. Kids also get a cup of bulk candy and a scoop of Ben & Jerry's, too, along with 20 credits at the Arcade.  
All guests receive a wristband. Grown-up wristbands also act as a room key, a "wallet" so that you can charge directly to your room and allows access to the waterpark. Kids wristbands do not open rooms nor make charges but they can help reunite lost kiddos and parents. If a kiddo finds themselves alone, any Great Wolf Lodge employee can scan the band and help locate the parents or alert security to take them to the front desk where the parents are quickly located. 
Daily shuttles between the property and both MSP and the Mall of America occur every 30 minutes.
Great Wolf Lodge
1700 American Blvd E
Bloomington, MN 55425
Call: 844-561-9653
Online: greatwolflodge.com/minnesota

—Amber Guetebier
You Will Love:
A Parent's Survival Guide to the Mall of America
10 Resorts with Epic Water Features 
The Best Waterparks in America 
Thanks to Great Wolf Lodge for hosting; while portions of this trip were paid by Great Wolf Lodge, the opinions expressed here are the writer's own.