photo: Pixabay
Pets can be a big part of your family. They act as playmates to your kids and companions to you during those long wakeful nights with a newborn. Most people can't imagine their lives without their beloved cats and dogs, but are they just like your kids? One blogger thinks the term furbabies is offensive to moms, but not everyone agrees.
Blogger Elizabeth Broadbent shared a post on YourTango titled, "No, Your Dog Is Not Your 'Baby' — Saying That Is An Insult To Moms." It's fairly easy to asses what her thoughts on the subject are based on the title alone, but in a nutshell she thinks it's unfair to compare having kids to having pets because they are vastly different experiences. "Yes, both puppies and newborn babies wake up in the night. It sucks to wake up and let a dog out but it sucks more to wake up and attempt to latch an unwilling, wailing infant to your breast," she writes, demanding that people stop calling their dogs babies. While it's certainly true that pets demand less of your attention and time than babies, the post was recently shared on Facebook and as it turns out, not everyone agrees that furbaby is a bad word.
The Facebook thread is filled with hundreds of comments, and while some support the idea that pets are not children, many argue that pets are an integral part of their families and that their kids consider pets like their siblings. Others argue that regardless of whether you use the term furbaby or not is irrelevant and takes nothing away from other moms.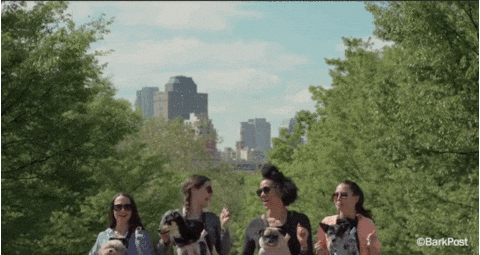 It could even be argued that, despite Broadbent's attempts to highlight the differences between having pets and having kids, she in fact shows just how much having a pet can help prepare you for becoming a parent in the first place. Puppy-proofing your house might not register on the scale with the same importance as baby-proofing, but it certainly forces you to see your world from a different perspective and that's a pretty invaluable parenting lesson.
Where do you fall on the furbaby debate? Share your thoughts in the comments below.