Macaulay Culkin's new Google Home ad is nothing short of holiday genius—and loaded with '90s nostalgia. If you're a fan of Home Alone (or have watched it something like a gazillion times with your kiddo), you know his claim-to-fame role as "this is why we have CPS" poster boy, Kevin McCallister.
Now imagine that Kevin grew up, smart-ified his home and well…you'll see.
Believe it or not, Home Alone was made almost 30 years ago. But that hasn't stopped the decades-old holiday flick from making modern kids smile. Culkin returns to his iconic face-slapping role—but as an adult. Yep. Kevin is all grown-up—and apparently using Google Home.
The hilarious ad recreates some of the most notable scenes from the film, but with a modern twist. Along with Google Home telling the adult version of Kevin that his calendar includes "house to yourself," Culkin also asks the smart home assistant to order more aftershave, reminiscent of this scene: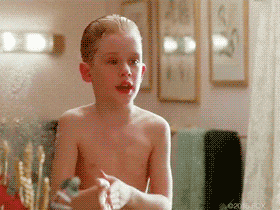 But that's not all. In a nod to his older self, Culkin stops jumping on the bed to support his aching back. Oh and he also asks Google Home to remind him to wash the sheets.The adorable ad is nostalgia at its funniest. Heck, you might not even realize you're watching an ad. But you certainly will laugh!
—Erica Loop
Featured Photo: Google via YouTube
RELATED STORIES:
Kristen Bell Is Our Celeb Mom of the Year
All the Celebrity Parents We Couldn't Get Enough of This Year