While many couples are still basking in Valentine's Day's rosy afterglow, a sad bit of news from Hollywood might snap a few of us back to reality. According to USA Today, Jennifer Aniston and Justin Theroux are separating after two and a half years of marriage. Not going to lie: Jennifer and Justin were totally one of those celebrity couples I was rooting for, especially after the Anna Faris Christopher Pratt split-up bombshell of 2017.
It's not as though the two had a particularly bitter V-Day spat—far from it. According to a joint statement released to USA Today, the pair have separated amicably and made the decision to do so at the end of 2017. So, maybe waiting until after Valentine's Day to drop the news to the world was probably a better idea than pulling the Debbie Downer card during the holidays.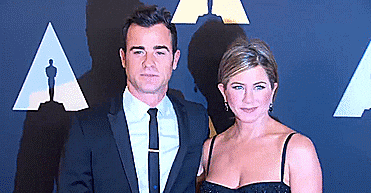 Aniston and Theroux's break-up is reminiscent of some other high-profile yet amicable splits, such as Gwyneth Paltrow's much-discussed "conscious uncoupling" from Chris Martin, and even Faris and Pratt. The latter couple are committed to co-parenting together and remaining civil for the sake of their son.
I mean, seriously—this might be the nicest break-up announcement I've ever come across. Their joint statement reads in part:
This decision was mutual and lovingly made at the end of last year. We are two best friends who have decided to part ways as a couple, but look forward to continuing our cherished friendship. Above all, we are determined to maintain the deep respect and love that we have for one another.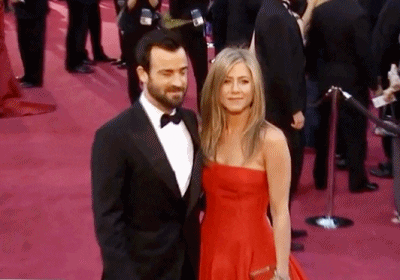 Now, I know what you may be thinking: Brad Pitt is recently divorced from Angelina Jolie… maybe Aniston's and Pitt's epic reunion will happen once more? Slow your roll, Brannifer 'shippers—just remember this was a mutual decision between Theroux and Aniston, and more importantly, they never even had to share the news with the world. Celebs owe us nothing just because they're famous.
Celebrity separation news can definitely be a bummer—but all things considered, Aniston and Theroux's separation, as surprising as it may be, still manages to be compassionate, kind and weirdly heart-warming. Perhaps they'll go from poster celebs of fairytale romance to becoming empowering examples of modern divorce.
Whatever's in their future, together or otherwise, we wish them the best.
Did you think Aniston had found her soulmate in Theroux? What do you think about their thoughtful separation announcement? Share your thoughts in the comments.
—Keiko Zoll
RELATED STORIES:
Here's Why I'm Proud to Be Divorced & No, I'm Not a Failure
Gwyneth Paltrow's Take On Divorce from Chris Martin Is Actually Pretty Awesome
12 Things No One Ever Tells You about Being a Single Dad