Potter fans have raised many theories about characters and plot lines over the years, some far-fetched and some spot on—but it's not often that Harry Potter author J.K. Rowling actually takes the time to confirm an idea. One interesting fan theory about Hermione Granger has just received the author's stamp of approval.
Whether you're a Gryffindor or a Slytherin, if there's one thing most Harry Potter fans can agree on, it's how challenging it is to pronounce Hermione. In fact, even the characters in the story had trouble figuring out just how to say it correctly. One fan recently took to Twitter to highlight the moment when Miss Granger politely teaches Durmstrang student Viktor Krum how to pronounce it.
In The Goblet of Fire, after Krum repeatedly pronounces it "Her-My-Own," she corrects him and explains that it is pronounced "Her – my – oh – nee."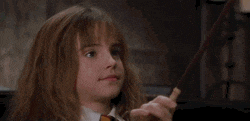 In her post, Twitter user Atulaa explains her theory, that this sweet, little exchange serves as more than just funny banter and instead was intended to teach book readers how to pronounce her name correctly. J.K. Rowling confirmed that her theory was indeed correct.
Now that's accio awesome.
—Shahrzad Warkentin
Featured photo: The Magic of Hogwarts via YouTube
RELATED STORIES:
Universal Studios Cancels Harry Potter Fest (but It's Not All Bad News)
Pottery Barn's Harry Potter Home Decor Collections Are Pure Magic
Harry Potter Heads Back to School in with Epic "Hogwarts Mystery" Update