Kristen Bell is basically #MomGoals. The 37-year-old mom of two not only counts credits such as Disney's Frozen and the iconic Veronica Mars to her name, she's also just one really rad mom who's been open about her experience with motherhood. Bell even only has her own hilarious web series, Momsplaining with Kristen Bell. Last week, at the Mom 2.0 Summit in Pasadena, California, Kristen Bell told the crowd how she calmly confronted the paparazzi when they crossed a line with her kids.
First, some context. Bell and her husband, Dax Shepard, have been vocal proponents of the "No Kids Policy," a campaign to get media outlets to stop buying paparazzi photos of celebrity kids. Through the power of social media, Bell actually got the paparazzi to get off her back during her pregnancy with her youngest son, Delta. At the Mom 2.0 Summit where Bell was a keynote speaker, she shared the harrowing event that took place recently.
Bell recounted how, while she was waiting in the pickup line at her kids' preschool, she saw a paparazzo camped out across the street with a camera aimed squarely at her and her kids. After buckling her kids into their car seats, she calmly walked over to the man who photographed them without her permission and went full mama bear—all with her trademark perky smile:
"Do you realize how much you're putting my children at risk by taking photos in front of my kids' preschool? I have the confidence your mom raised you better. I'm asking you to delete those photos."
Mic. DROP.
Incredibly, her polite and sincere request worked. Her message to moms in that moment was that no matter how terrifying the prospect might be of stepping up to do the right thing or to stand up for yourself, "You can do it. You can handle your sh*t."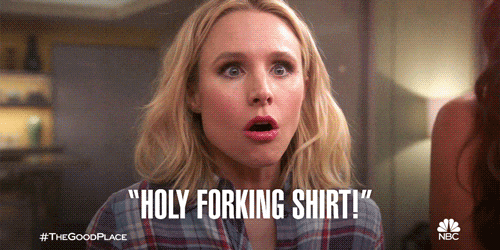 You can catch Bell in her awesome series, Momsplaining with Kristen Bell, at The Ellen Show's YouTube channel.