Your kiddo can't stop building with those plastic bricks…but what about you? The LEGO Forma line takes brick-based play to a whole new level, geared toward adults! Read on for all the super cool ways LEGO has grown up with its latest toy.
LEGO and innovation go hand-in-hand—literally. The master builders of childhood playtime have launched pilot programs that allow real people to interact with the new sets before they officially enter the LEGO pantheon. Genius! The new LEGO Forma line is one of these experimental experiences.
The collection allows builders to construct a Technic skeleton and decorate it with customizable skins. Choose from one of four skins: the Shark Skin, Koi Skin, Splash Koi Skin or the Ink Koi Skin (that you decorate yourself). Oh, and the fun doesn't end there: the 294-element set includes a gear system that recreates life-like movements, so you can watch your creation flow after building it!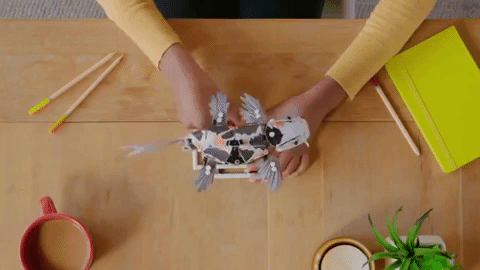 If you're thinking LEGO is just for kids, think again. Between work, kids and everything else, we're all super-stressed. LEGO Forma gives adults a break from adulting and allows them to relax, get creative and do something for themselves. LEGO describes Forma as a "premium LEGO experience for adults looking for a simple, fun way to disconnect from their screens and reconnect with their creative side."
So how can you get yours hands on one of these LEGO Forma sets? Visit the LEGO Forma page at Indiegogo to select your set. Choose a Super Box (which includes the koi skeleton and three skins) for the current perk price of $85 (original price $109), the Koi Model only for $45 (original price $55) or an add-on skin for $15.
The estimated delivery date for all LEGO Forma sets is January 2019. Happy building!
—Erica Loop
All photos: The LEGO Group via YouTube
RELATED STORIES:
We Need This LEGO Vacuum Like Whoa
Calling All LEGO Super Fans: LEGO Ninjago Is Casting Kids for New Commercial
LEGO & Volvo Team Up to Make the Construction Toys of the Future