If winter is cold and flu season, it also stands to reason that smack in the middle of January, the 17th through the 23rd, to be precise, is National Fresh Squeezed Juice Week.  There's nothing better for keeping the doctor away than a glass full of liquid vitamin (well, except for washing your hands, getting more sleep and exercising regularly – but who wants to work that hard?).  Let's face it, your kids may be the light of your life.  But, other people's tots are walking petri dishes of bacteria.  To keep your brood healthy in 2013 – and flaunt your knowledge of obscure American holidays – visit one of Red Tricycle favorite spots for fresh squeezed juice in NYC!
Jamba Juice
Various locations
Use the Store Locator to find a site near you and prepare to Live Fruitfully (just like the Bible – and Venus Williams – urges).  Jumbo Juice fresh squeezed options include Orange and Carrot, while their blends throw berries, bananas and the taste of the tropics into the mix.
Good to Know: Jamba Kids has a special Just For Kids Menu which includes fruit and vegetable smoothies, a pizza swirl or a cheesy pretzel.  That should make the vitamins go down easier.
Juice Generation
Various locations
They're all over New York City and they've been praised by no less than The View.  Whether you want to Hail to Kale, ramp up the Vitamin C, Veg-O-Might or hit the Pure Energy in order to keep up with your kiddo, Juice Generation has got you covered.  Feeling a little under the weather?  Their Juice Farmacy will get you back on your feet in no time with a Cold Warrior, Ginger Fix, Dr. Bombay or Lemon Lozenge.
Good to Know: Seating is at a premium at many locations, so plan to get your juice fix on the go.
Bowery Diner
241 Bowery
Just juice, does not a completely balanced meal make.  The Bowery Dinner, which may only be open three days a week – Thursday, Friday and Saturday; but it's open for 24 hours on all three of those days – serves freshly squeezed orange or grapefruit juice on a Kid's Menu  that also has Gooey Grilled Cheese, Silver Dollar Pancakes and – to continue the health theme – Make You Strong String Beans.
Good to Know: There's a menu for grown-ups, too.  It's got things like oysters, roasted squash, and lamb on it.  And no one will make you eat your string beans if you don't want to.
No Ho Juice Bar & Deli
208 Mercer St
Think orange, grapefruit and carrots are your only option?  Think again!  No Ho Juice Bar and Deli allows you to come up with your own combination drink, and offers an array of choices that include the usual suspects, plus apple, kale, celery, cucumber, spinach, lemon and much, much more.  Basically, if they can squeeze it, you can drink it.
Good to Know: The friendliest staff in town, which means you can even risk coming in when Junior is in a bad mood.  They'll either make him smile, or they'll pretend not to notice when he throws a tantrum.  Either way, you win.
Community Food & Juice
2893 Broadway
You know a place that includes the word juice in their title is serious about offering the best in freshly squeezed.  In addition to orange, grapefruit and carrot flavors (straight and mixed), they also serve freshly mulled apple cider and hot buttered cider, as well as a pear bellini with fresh pear nectar, a Classic Mimosa, a Beet Cocktail with freshly squeezed beets, and a Morningside Maple.
Good to Know: Community Food & Juice uses organic, sustainable ingredients whenever possible, adjusts their menu according to the seasons and, while not a strictly vegetarian restaurant, can make most of the items on their menu vegetarian upon request.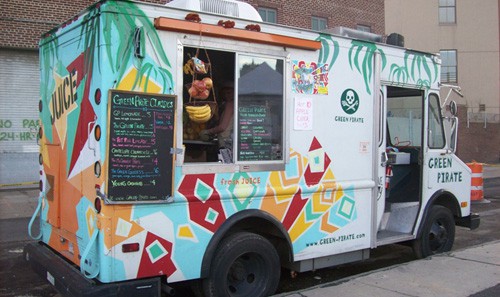 Green Pirate Juice
Brooklyn
What's more cool than juice?  Juice served by pirates!  What's more cool than juice served by pirates?  Juice served by pirates in a truck!  In an attempt to make "health-food" accessible and affordable to all ages, sexes and economic strata, Green Pirate Juice hits the streets of Brooklyn with their community juice truck every Saturday in the spring, summer and fall from 9 am to 3 pm.  They're fresh, local, vegan, nutritious and delicious.  The only trick, really, is finding them.  Follow the truck on Facebook or Twitter for updates.
Good to Know: Is not, in fact, staffed by actual pirates.
Liquiteria
170 2nd Avenue
Pick one freshly squeezed ingredient, or up to three and mix and match your apple, grapefruit, orange, pear, pineapple, carrot, and even a seasonal watermelon, not to mention an assortment of veggies, and bonus shots of ginger or cayenne pepper.  If you're doing a juice cleanse, they'll work with you to make sure you get all the nutrition you need while still achieving your weight loss goals.
Good to Know: If you ask for a Tropical Kiss, an Afternoon Delight or an Orangasm, be aware they're still just juices.
Do you have a favorite juice spot?  Tell us!
— Alina Adams