First comes love, then comes marriage, then comes the baby in the baby carriage—well, baby dog that is. Prince Harry and Meghan Markle got a puppy and it's the perfect way to give the couple a preemptive lesson in parenting.
Prince Harry and Duchess Meghan have only been married a few short months, but they're already growing a family as they recently became parents to a new Labrador puppy. No word yet on what the new pup is named.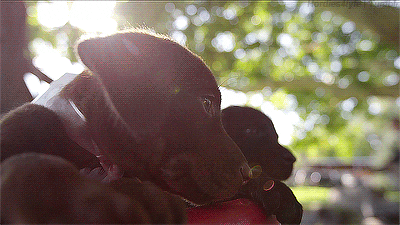 The Duchess Meghan already had a beagle named Guy, so he'll have to make some room in his royal dog bed at Nottingham Cottage.
There was no debating over cats versus dogs for this couple, who are each well-known dog lovers. Every member of Prince Harry's family has had dogs at their sides, from the Queen's famous corgis to the black lab Harry shared with his brother William as a child.
Clearly Meghan already has a special touch when it comes to dogs, as Prince Harry explained to ABC News of Duchess Meghan's first meetings with the Queen's corgis: "I've spent the last 33 years being barked at, this one walks in, absolutely nothing, just wagging tails, and I was like, 'Argh.'"
Only time will tell if their dog parenting skills fall on the same page. Either way, a new dog to share is an excellent way to practice for babies one day.
—Shahrzad Warkentin
Featured photo: Kensington Royal via Instagram
RELATED STORIES:
Does Meghan Markle Want 5 Kids? Prince Harry Has Some Thoughts
BTW, Prince William & Kate Middleton Don't Legally Have Custody of Their Kids
Prince William & Kate Middleton Have a Big Secret They Keep from Prince George