On Wednesday, Sesame Workshop announced the end of an era: Big Bird puppeteer Caroll Spinney is hanging up his feathers, leaving the show for good. Spinney, the human behind both the beloved Sesame Street characters of Big Bird and Oscar the Grouch, is ending his half-century-long career with the beloved children's show.
When Sesame Street premiered in 1969, a cast of now-iconic characters was born. Among them was a tall yellow feathered friend and a garbage can-loving (and living) grouch. And with these two characters came an awesomely talented puppeteer—Spinney.
Not only has Spinney been the voice and body behind two of the most-recognized Muppets by preschool kids since the 70s, he was viewed as a pioneer and leader. In a statement, Sesame Workshop Co-founder Joan Ganz Cooney said, "Carroll has been one of the leading lights of Sesame Street from the very beginning. His genius and his talent made Big Bird the most beloved yellow feathered friend across the globe. But the sheer artistry of Carroll is that he also brought Oscar to life and made him the most lovable Grouch in the world."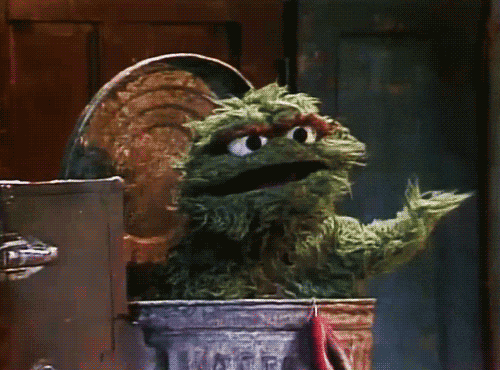 After announcing Spinney's retirement on Twitter, the social media-verse had plenty to say. Tweets included plenty of thank-you's and much love for the adored puppeteer.
Thank you Caroll Spinney for your dedication to teaching and inspiring children for nearly half a century! @sesamestreet

— Adam Dean (@WxDiz) October 17, 2018
End of an era for Big Bird. Thanks Carol Spinney for some of the best childhood memories! https://t.co/WEiVI4gISl

— Betty Nguyen (@Betty_Nguyen) October 17, 2018
What a wonderful legacy Carol Spinney has left us in Big Bird and Oscar the Grouch. Or, as I called him when I was little, Ahgoo the Gwowch. https://t.co/2SC3cVBpW8

— Susan Arendt (@SusanArendt) October 17, 2018
Throughout his career Spinney won six Emmy awards, a Lifetime Achievement Emmy, two Gold Records and two Grammys. He also holds four honorary doctorate degrees. But most of all, he also holds all of our hearts.
According to Jeffrey D. Dunn, Sesame Workshop's President and CEO, "Throughout his unparalleled career, Carroll Spinney gave something truly special to the world. With deepest admiration, Sesame Workshop is proud to carry on his legacy—and his beloved characters—into the future."
So who will carry Spinney's characters into the future? Puppeteers Matt Vogel and Eric Jacobson will now tackle the beloved roles. This isn't the first time that Sesame Street has seen the recast of classic characters. After Jim Henson's death in 1990, Steve Whitmire took on the iconic role of performing Kermit the Frog until only very recently; in 2017, it was none other than Vogel who took over as Kermit's puppeteer. Vogel is also the performer for Count von Count.
Suffice it to say: our beloved Big Bird is being left in the hands of some very capable puppeteers—but there's no doubt fans who grew up watching Spinney will always stay true to the OG Big Bird of their childhoods.
—Erica Loop
Featured photo: Jay Godwin/LBJ Library via Flickr
RELATED STORIES:
Sesame Street Is Helping Kids Cope With Trauma 
Apple & Makers of "Sesame Street" Team Up for 2 New Original Kids' Shows
A new Animated Series Is Coming to HBO from the Makers of "Sesame Street"