Wax on, wax off Daniel-san. Yep, The Karate Kid sequel teaser trailer for Cobra Kai is out and old school rivalries are back. If you thought Ralph Macchio's Daniel LaRusso and William Zabka's Johnny Lawrence were done battling it out at the dojo way back in 1984, you'd be wrong. YouTube Red is bringing back the '80s mega-hit with a whole new showdown.
Okay, okay, so the showdown isn't exactly "new." It's still Daniel vs. Johnny doing the same ol' "good guy fights bad guy" trope. But the difference is…how do we put this—mild spoiler alert—well, they're middle-aged men now.
The teaser trailer kicks off (pun totally intended) with the All Valley Karate Championship bracket sign, a few trophies and some decades-old news clippings with headlines like, "Mystery Dojo with Single Student Defangs Cobras" and, "Local Valley Champ Defends Title Against Karate's Bad Boy."
Oh, and then there's the voice (is it Daniel?) saying, "I don't know why you'd ever want to bring back Cobra Kai."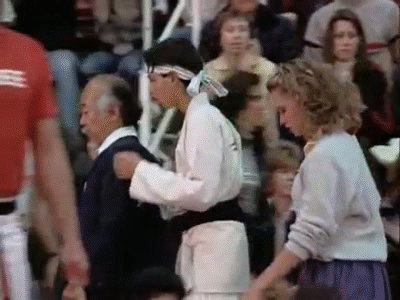 Ah, but it looks like that's exactly what middle-aged now-sensei Johnny is doing. He's bring back Cobra Kai and they're ever so sketchy way of training — as evidenced by their moto, "Strike First. Strike Hard. No Mercy."
The teaser ends with Daniel stepping up to Johnny, or rather stepping across from him, with a, "Johnny, you and I, this — we aren't done." Hmm. Would those happen to be fighting words Daniel-san? We guess you'll have to wait, watch and see.
What do you think of the Karate Kid redux? Share your thoughts in the comments below.
—Erica Loop
Featured photo: Cobra Kai via YouTube
RELATED STORIES:
75 Movies Your Kids MUST See Before They're 10
Pillow Pets Are the Latest "Retro" Toy Making a Comeback
You Can Buy the 90s Version of the Caboodle & Our Inner Teen Is Freaking Out