In the greatest LEGO news since Siri pretended to be the Batcomputer, The LEGO Movie sequel release date has finally been announced. It's been four long years since the first movie rocked our master builder world and we won't have to wait much longer for the next installment.
The official Twitter accounts for both Warner Bros. Studios and The LEGO Movie just revealed that the sequel film has a release date and a title. The LEGO Movie: The Second Part will hit theaters on February 8, 2019. Mark your calendars and practice your very best Lord Business impressions while you wait.
The plot of the new film is under wraps, although producer Chris McKay has explained that the overall theme will be about the differences in the way boys and girls play. While the first film focused on Finn's battle against "the man upstairs" (a.k.a. his dad), this movie will bring in Finn's younger sister, which means more of the DUPLO world that fans got a glimpse of at the end of the first movie.
The film will feature the return of Chris Pratt's Emmet Brickowski and Elizabeth Banks' Wildstyle along with much of the original cast, with the exception of Will Ferrell. Joining the cast is Tiffany Haddish whose character is yet to be named.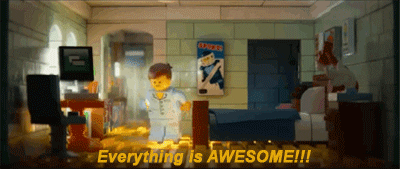 Whatever the plot, if it's half as funny as the first film, it promises to be the first massive hit in a year that will feature many highly-anticipated family movies including Toy Story 4 and Frozen 2.
—Shahrzad Warkentin
Featured photo: Warner Bros. Pictures via YouTube
RELATED STORIES:
Kristen Bell Just Dropped a Major Update about "Frozen 2" & We Can't Wait
LEGO Is Launching a Remote-Control Batmobile This Summer